Lighting plays a fundamental role in decorating your home, regardless of whether it is natural or artificial light, it highlights the sensations of each room, so you must take them into account when choosing the paint color for your walls.
The light colors will always be the best option to avail any kind of light, and even provide them with a feeling of more space to any room in your home.
White
White is the quintessential home color. It is capable of reflecting up to 80% light and can apparently "enlarge" the width and height of spaces.
For interiors it is the most versatile color since it can guarantee that all furniture, adornment, or decorative detail, combines perfectly; But if you are looking to maximize the light that enters your house, then try to maintain a harmony between the white paint on your walls with light colors in the rest of your living room, bedroom, kitchen or any room.
Light earthy tones
The beige paint or sand is very versatile because of its sensitivity to light in the interior, ie, the sensation of changes with the type of light that permeates the room.
For example, if your rooms have warm lamps, then the paint on your walls will convey a cozy atmosphere that resembles a cabin in the woods lit by a fire in a fireplace.
On the other hand, if your space has a wide entrance of natural light, then you will create a fresh atmosphere, full of vitality, especially if you combine it with decorative plants.
Beige paint is a home favorite, as it can match many colors. For example, in conjunction with furniture or wood finishes the result will be a cozy interior.
Light grays
The light gray colors are cold tones capable of creating, elegant surroundings minimalist, with kindness to intensify the effect of light.
Combine it with a decoration that includes white or wooden furniture and you will have a captivating decoration.
Green and blue
If what you want is to give light to the interior and at the same time gain positive energy, choose the blue tone. This color is versatile, practical and also gains depth wherever it is placed.
On the other hand, green evokes nature and also provides tranquility. If you use it on walls, play with other green elements such as cushions, sofas, or curtains, the result will be a space full of life, with a lot of freshness.
Yellow
We usually associate light with this color, therefore, shades of yellow are a safe option to brighten any room.
The softer shades reflect artificial light without the risk of saturating the space; they complement each other very well with warm wood textures and some touches of white or green.
If you want to use yellow in your decoration, just be careful not to saturate the rooms with the brightest tones, as it can be tiring to look at as some shades of this color can generate anxiety.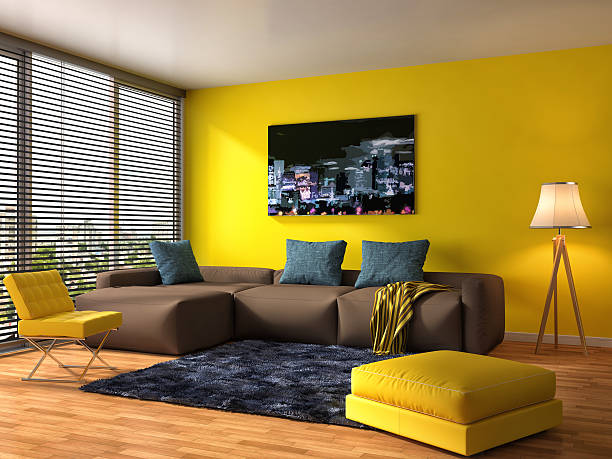 Take advantage of every ornament, detail, and element that makes up your home with the best interior paint. You can find a wide range of colors for home, with the certainty of having the best quality.
Go to your nearest SCS Group office so that one of our home painting and improvement consultants can help you with the best advice to paint your walls and achieve the renovation that you have thought for your spaces.